2022 President's Cup Bracket - Final Results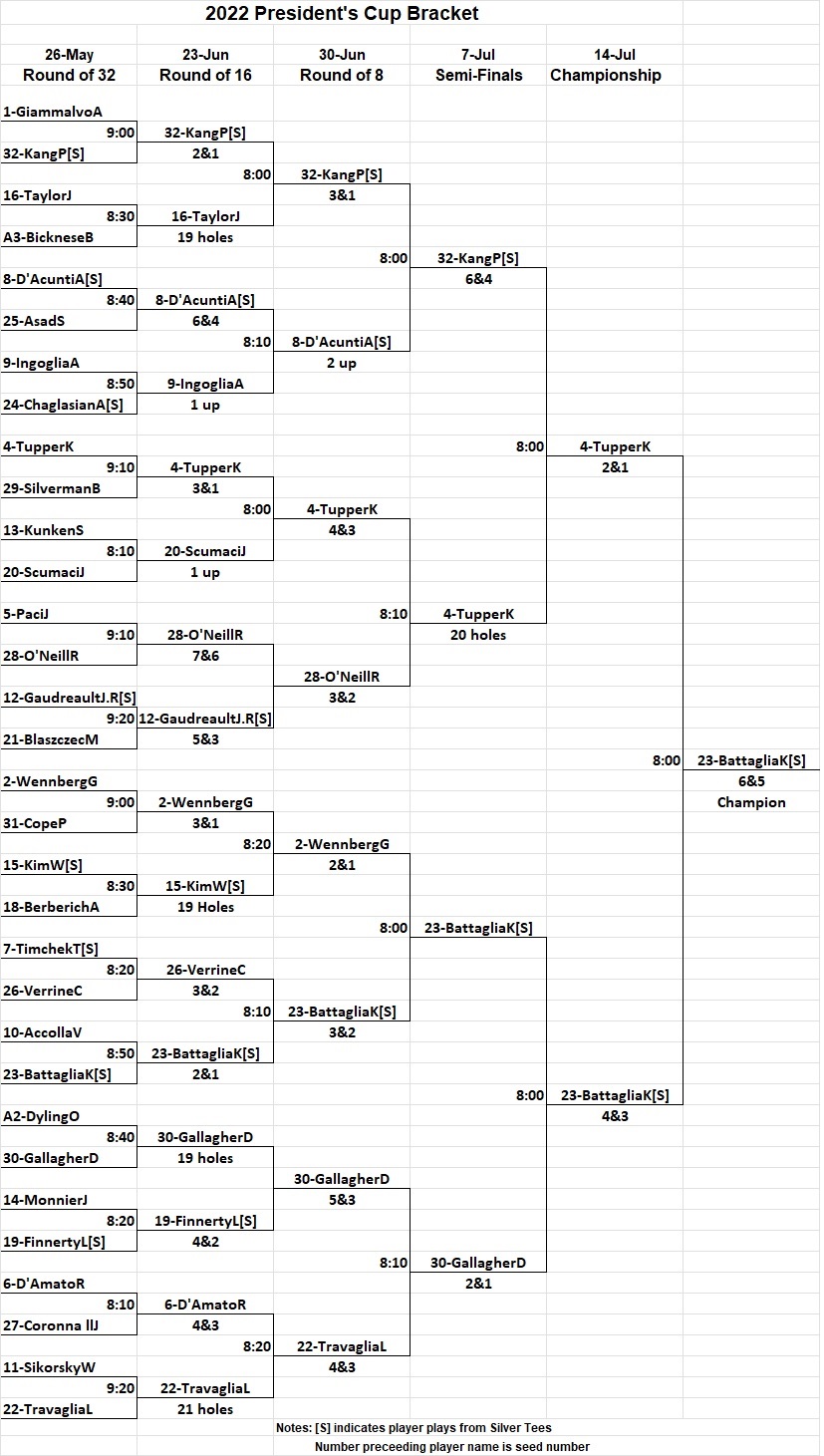 2022 President's Cup Tournament
Qualifying Rounds Schedule (played on Tues - Friday)
April 26-29 May 3-6 May10-13
1. Sign up* before playing and submit* a scorecard completed as defined in the Sample President's Cup Qualification Scorecard found on the website. Ladies play from Silver tees and men play from White tees (except for those in their 80th year or older, who may play from Silver tees). Up to four players may submit their qualifying scores on a single scorecard. Qualifying rounds are stroke play and are played at 100% handicap.
2. You may submit only one score to qualify for the Cup match play series. Duplicate entries will be discarded. Qualifying scores determine the seedings for match play.
3. Championship rounds are organized as single elimination Match Play, 100% Handicap in a bracket format. Participants must play all rounds from the tees used in their qualifying round.
2022 President's Cup Match Play Schedule (all played on Thursdays)
5/26 6/9 6/23 6/30 7/7
4. IMPORTANT - If you will not be able to play all your scheduled matches, please inform the Tournament Coordinator immediately, so that an alternate can can be assigned in your place. This must be done prior to the start of match play.
5. If both contestants agree, a match may be played earlier than the scheduled date, in which case the players will be responsible for filling their scheduled tee times on Thursday. The only foreseeable cause for postponing a match beyond the scheduled date would be a Noah's Ark event.
6. Submit* score cards for all matches. Remember to post both qualifier and match play scores on GHIN.com as "tournament" scores .
________________________________
* Signup for Qualification Rounds and scorecard submission for all rounds will be done online as defined in the weekly tournaments section of the Tournaments web page on the club's website.